Two Locations:
Sarasota: (941) 747-3247
Ft. Myers: (239) 990-6968 (Now Open!)
Happy tails start here!  Let us make your life easier and give your pet a day of rewarding fun!
Day Care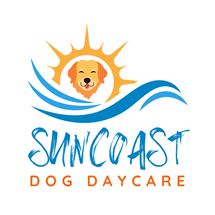 We provide doggy-day care for our rowdy or lonely friends who need a chaperoned day out while you're busy! You can rest, work or play easy while we take great care of your pooch!
Training
As a Dog Wizard franchise, we expert dog trainers can do magic with your dog. Well, it's actually not magic, it's dog training done right. Call us today to schedule a free evaluation! Visit our website…
Serving Bradenton and the Greater Sarasota & Ft. Myers areas.
Suncoast Dog Daycare is a family-owned business with more than 40 years of experience, leading the pack in conformation dog shows, obedience, dock diving, lure coursing and many other related activities. Our Bradenton and Ft. Myers facilities feature air conditioned indoor kennels and outdoor play yards. Your pet's comfort in the Florida heat is our primary concern. We love pets and provide a stress-free daycare adventure that is tailored to your favorite furry friend's needs for exercise and cuddles. We also offer dog training through our Dog Wizard franchise. You can trust us with your dog because we're experts in dog care and training!
Contact Suncoast Dog Daycare
5016 FL-64
Suite 101
Bradenton, FL 34208
(941) 747-3247
Next door to Braden River Animal Hospital and Diva's Dog Grooming.

14621 Ben C. Pratt/Six Mile Cypress Parkway
Suite 101
Ft. Myers, FL 33912
(239) 990-6968
Now Open!
Monday–Friday, 7am–7pm
Saturday, 7am–6pm